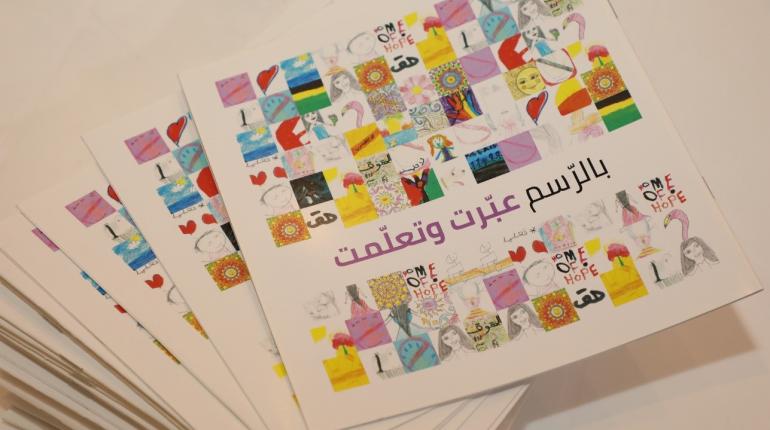 QUDWA: Raise awareness about the dangers of digital technology, bullying, and cyberbullying through puppets.
A heartwarming coloring book
The QUDWA initiative concludes its activities and intervention by drawing attention to child rights the way QUDWA children envisioned it. The outcome is an exhibition and a book on knowing, coloring, and enjoying. How is that?
More than a hundred copies of a coloring book created by QUDWA children are being distributed. The aim of the coloring book is to spread awareness on child rights and to bring enjoyment to kids.
The QUDWA initiative, with the support of UNICEF and Terre des Hommes Italia, addresses abused, abandoned, and orphaned children aged between 10 and 17 years old from Borj Hammoud and Kahale in Lebanon. The focus is to educate them on child protection through awareness-raising on violence and child rights.
This book sums up the artwork of around 11 children from Burj Hammoud and 21 children and youth from Kahaleh. These children are discovering their own voices, expressing their thoughts and feelings, and gathering knowledge on their rights. They put it all together on paper, drawing what they learned, how they see it, and the way they feel it.
Celebrating this artwork started with an art exhibition. It helps in bringing attention to issues of social injustice, child protection, and violence. Also, it opens the door for the children to present their artwork and the ideas behind it to their communities. Thus, initiating new channels of interaction among the children and their communities and enabling children to understand their own rights and to transmit key messages on violence to other children and the community at large.
At the end of the puppet show performance, each child will receive a coloring book and will get the chance to discover and color the artwork created by his colleagues who have participated in the Qudwa initiative mentioned above. A pure way of self-expression and communication from a child to another.