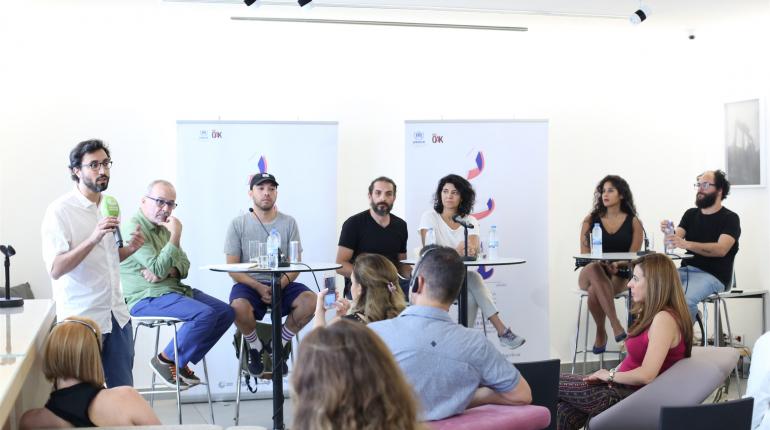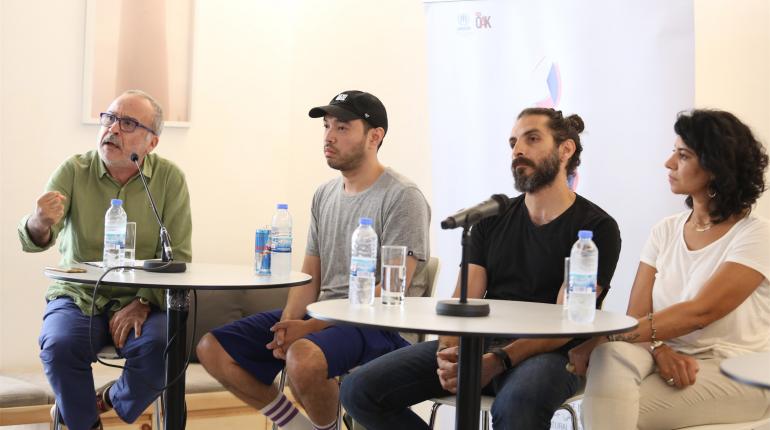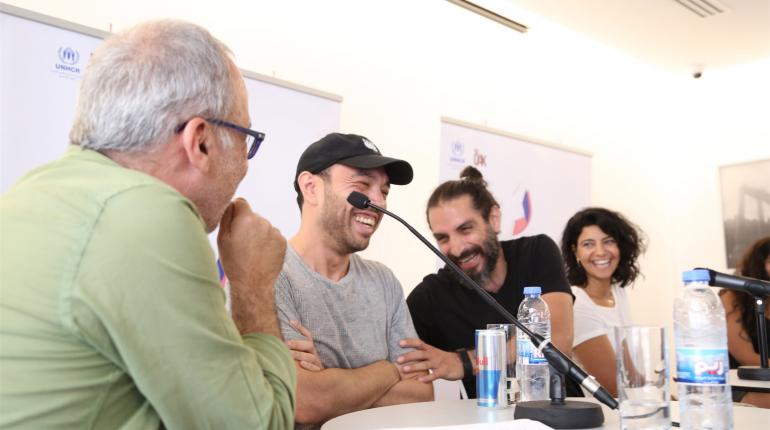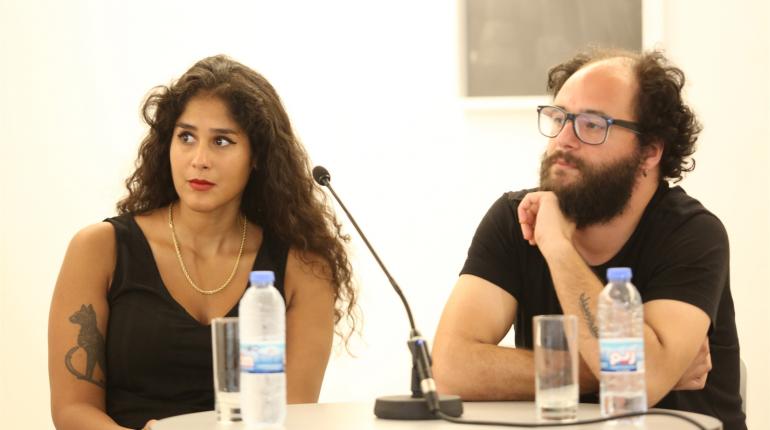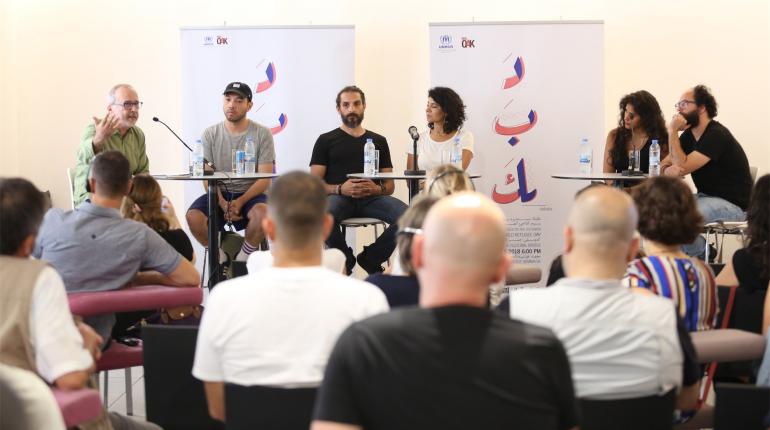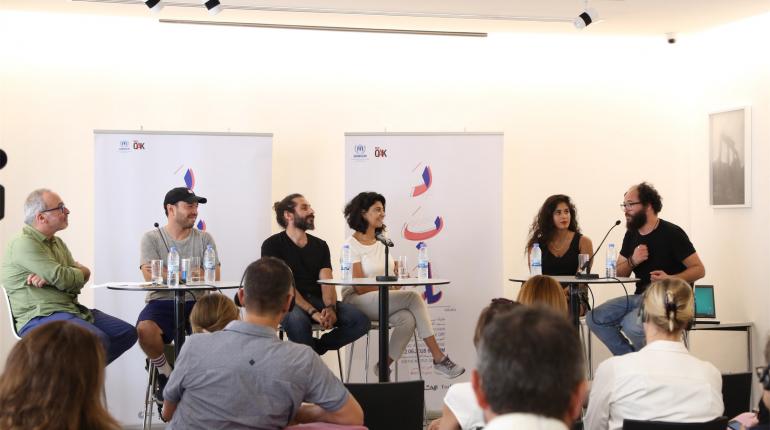 Dabaka
"Music: A Cultural Bridge" Round Table Kicks off "Dabaka" project on the Occasion of World Refugee Day
On the occasion of World Refugee Day, the Red Oak Organization organized a discussion under the title: "Music: a Cultural Bridge" at the Goethe Institute- Gemmayzeh, with the support of UNHCR (the UN Agency for Refugees).
The event took place in the framework of the project "Dabaka" initiated by the musician Wael Kodeih (Rayess Bek). "Dabaka" aims to bring together Syrian and Lebanese professional musicians to produce one original work, release an album and play a live concert.
The seminar moderated by the deputy editor-in-chief of the Al-Akhbar newspaper Pierre Abi Saab was attended by the executive director of Dar El-Nimer for Arts and Culture, Rasha Salah, the Lebanese producer, Raed El-Khazen, the Syrian musician Khaled Omran, the Syrian-Filipino Hip Hop artist Chino and the Egyptian musician Aya Metwalli.
Wael Kodeih
The roundtable discussions kicked off with Mr. Kodeih who pointed out that "the Dabaka project was created to change the prevailing negative concept of refugees' presence in Lebanon. In music terms, the refugees brought along with them innovative techniques for an audience that is now increasingly asking for brand new material. That is why we got so excited to make new music, and so we worked on a joint music between Lebanon and Syria which is the "Dabkeh", hence the name of the project. "The relationship between refugees and the Arab musical culture is different than what links the Lebanese to that same culture, which brought some kind of a positive competition in the field of independent music", he added.
Pierre Abi Saab
After having introduced the participants, Mr. Abi Saab asserted that "not only the refugees' case is important in music but also it is considered as a major economic, civilizational and cultural opportunity for Lebanon", stating that "refugees shall not be perceived as a source of danger because only politics lead us to fear, hatred and discords."
Khaled Omran
Mr. Omran in turn said that "ever since we founded the band, we wanted to create an out of the box musical pattern, away from the well-known oriental music concept, traditions and heritage. We are living in an Arab country, that is true, but we managed to preserve the identity of the Arab music by introducing a different pattern". In reference to the Dabaka project, he added: "It was a rich experience given the multiple nationalities involved, for it has enabled us to share and develop our experiences and get to know ourselves better".
Raed El-Khazen
Mr. El Khazen said: "While in America for 10 years, I discovered my identity through expressing different music types (Jazz, funk, rock…), not to mention that seeking asylum in another country had taught me how to further explore both myself and identity and appreciate my Arab origins".
"When I came back to Lebanon, that is when the Syrian refugee crisis erupted, I was convinced we would be able to build something contemporary at the level of art. Working as a producer with "Tanjaret Daght", that Syrian band that differs vocally from our heritage, is based on reformulating that heritage in a new way adapted to our world of today. I also collaborated with numerous Syrian artists and it was super easy to get along with them as music is a universal language going beyond political and geographical boundaries, especially that it allows the human being to express himself other than in the spoken language", he added.
Aya Metwalli
Ms. Metwalli, in turn, said: "My curiosity brought me all the way to Beirut. This was not in my plans. While here, I was surprised to see how many Lebanese were fond of the authentic Egyptian art and totally familiar with most of the old plays and movies. For me back in Cairo, these were trivial things as I had not realized their heritage importance and value which shaped my identity until I moved away from my homeland".
Chino
When Chino took the floor he said: "As a Hip Hop artist, I faced many difficulties because my work was based on words and spoken language that express the concerns and problems of the society in which we live, and this is what I have not found when in Barcelona".
"However, despite all that, I did not feel I belonged to my Arab origins because I did not use the same language. That is why when I wanted to make the album, my intention was to shed light on this category of people who do not belong to the society in which they live", he added.
"As a Syrian-Filipino, there's this thing always going on in my mind… I refuse to see language taking control over humans' identity and the issue of affiliation. We have to go with the flow especially when it comes to youth in order to reintegrate youngsters into their societies. Hip Hop is an art that reflects the environment, and we have to build a bridge between the old and new generations based on dialogue and efforts to promote communication on a large scale", he concluded.
Rasha Salah
Ms. Salah said: "I cannot but recall Ghassan Kanafani who is considered as a Palestinian and Arab role model who strived to inculcate that idea that there is a language of existence. But the barrier that I always felt between the camp and the city was very harsh on me at the beginning especially that my old Palestinian dialect was a big embarrassment".
She pinpointed the fact that "the positive thing about being a refugee or living abroad away from my homeland is that I earned a scholarship and studied in France that did not perceive me as a refugee but as an Arab, and so rarely have I been the victim of any discrimination. There are also other positive factors such as discovering new trends, music we are unfamiliar with, the diverse dialects, new traditions and languages…" "Nowadays, we might as well consider the refugee crisis as a catastrophe or see it as an opportunity to enrich what we already have and all the refugees around the world", she concluded.
The "Dabaka" project, organized by the Red Oak Organization, is a platform of artistic and cultural exchange among artists and cultural directors at the local and international levels and aims at gathering Syrian and Lebanese professional musicians to work together on producing a unique work of art, making an album and holding a musical concert by the end of November 2018 in Beirut.
About Red Oak
Red Oak main objective is to encourage innovative approaches to existing social, educational and cultural structures for a sustainable impact on the development of children and youth through art and the performing arts. It uses empowerment to foster and implement new ideas by promoting creative processes, thoughts and tools. It is also a platform for artistic exchange between local and international artists and supports artistic creations.
Red Oak created Red Oak Performing Troupe, which is committed to theater and performance practices as an instrument of social change.