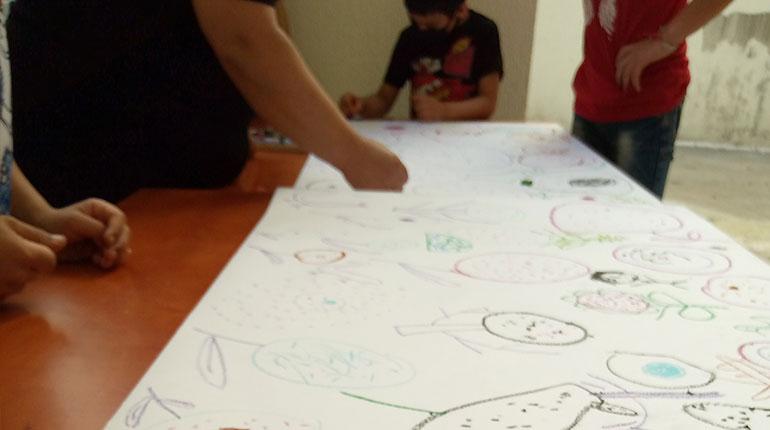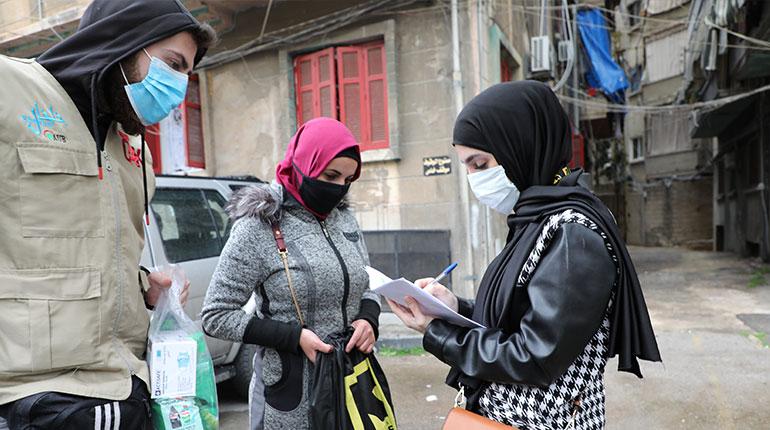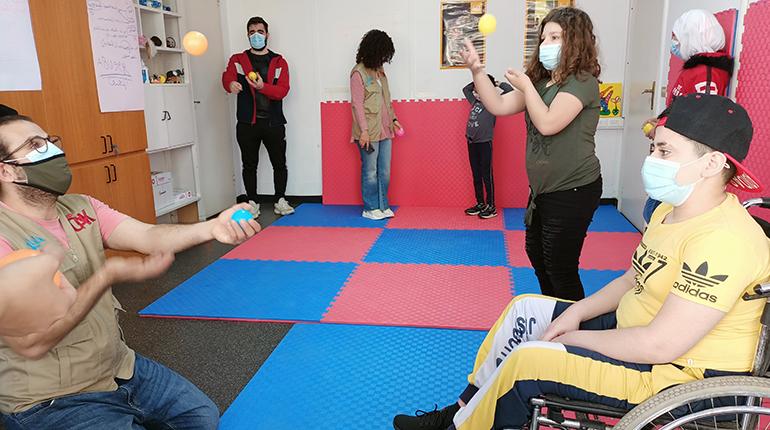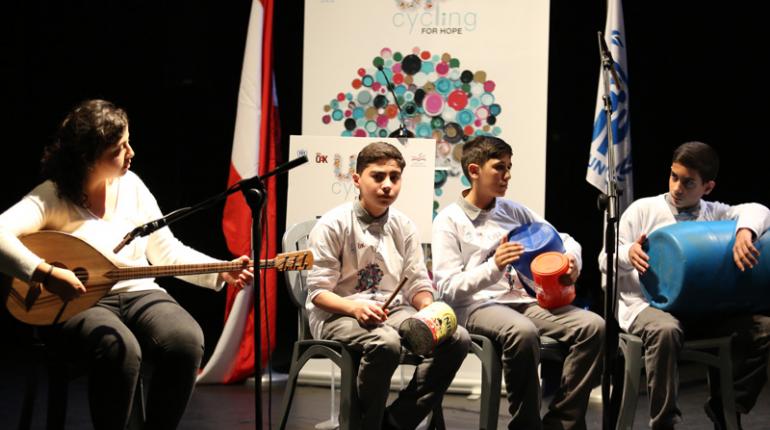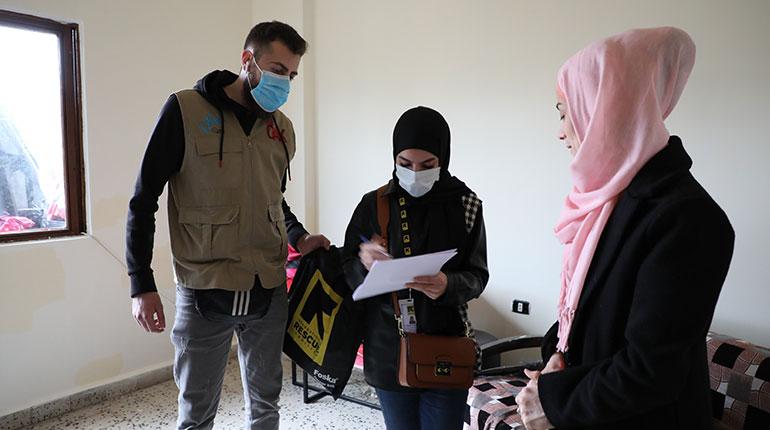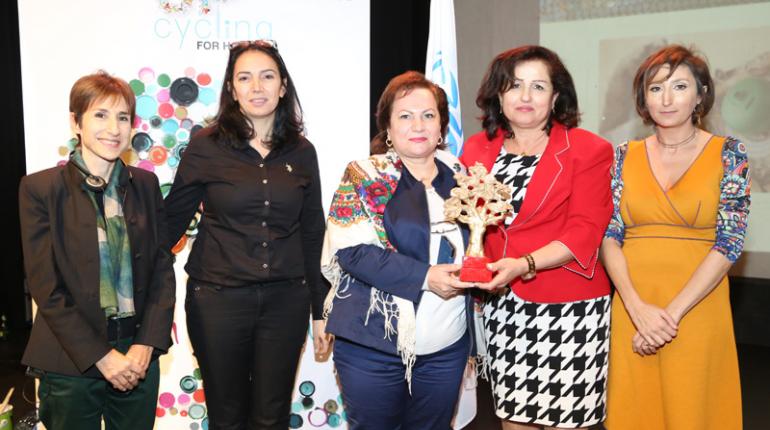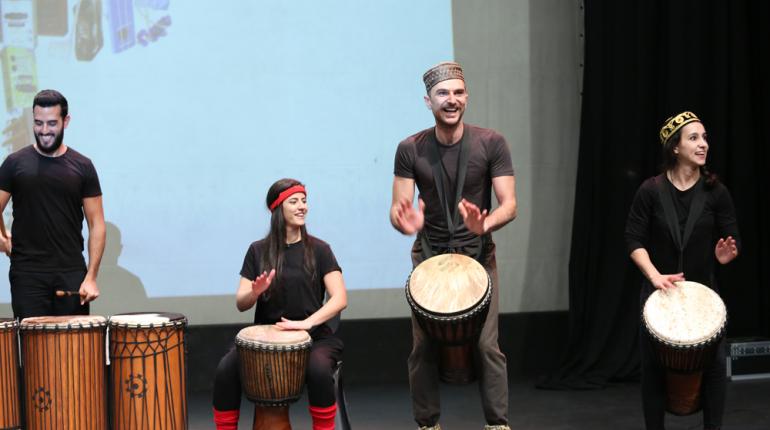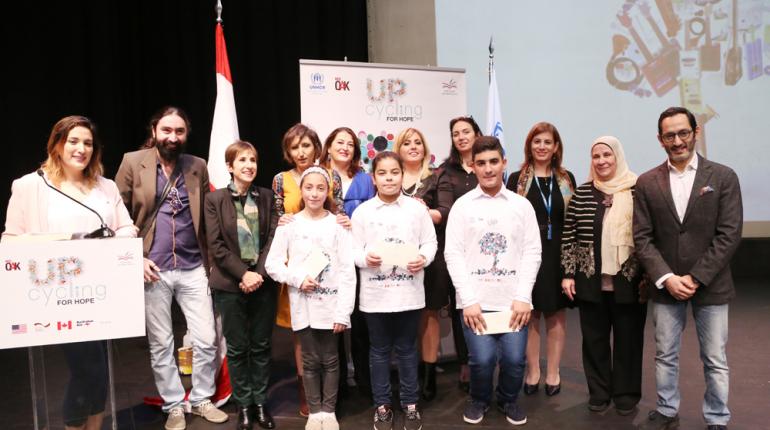 Up-cycling for Hope
"Red Oak" Concludes its Environmental Awareness Project Playing the "Trash Orchestra"
Red Oak Association, in partnership with UNHCR (the UN Refugee Agency) and in close collaboration with the Ministry of Education and Higher Education, held a closing ceremony in Al Madina Theater to celebrate the achievements of "Up-Cycling for Hope" initiative.
"Up-Cycling for Hope" aims to raise children's awareness of waste management issues through an art-focused project implemented in 7 public schools in Greater Beirut and targeting more than 1200 Lebanese and refugee students between 7 and 12 years old. It allowed students to reflect on environmental issues in a creative way through street art.
A ceremony took place in the presence of ambassadors, deputies and diplomats in addition to representatives of environmental associations and members of the civil society.
Opening speeches:
Dr. Nadine Abou Zaki, Red Oak Founder, Mrs. Mireille Girard, UNHCR Representative in Lebanon, and the Director General of the Ministry of Education and Higher Education, Mr. Fadi Yark, representing the Minister of Education and Higher Education H.E. Marwan Hamadeh.
Nadine Abou Zaki
The ceremony started with the welcoming remarks of Nadine Abou Zaki, Red Oak founder who said:"Today we celebrate the achievements of the seven schools for their environmental project with the help and support of the UNHCR, the collaboration with the Ministry of Education and Higher Education, and the professional trainings that the musicians and artists have provided with Red Oak's guidance throughout the process".
"More than 1200 Lebanese and refugee students collaborated together turning their own instruments from waste material, and collected it in a bin in order to construct a large-scale mural that artistically transformed the playground of their school to create a pleasant and joyful environment," she pointed out.
"Red Oak, this newly born NGO, symbolizes the oak tree that is deeply rooted in the ground and its leaves freely dancing in the open sky which made us choose "The Tree" as the name of its first project," she concluded.
Mireille Girard
In her speech, Mireille Girard noted that"waste management is a tremendous problem for Lebanon. This situation is escalating with the increasing number of refugees."
"If our kids today carry out these environmental values and virtues, they will be able to save the world as a whole which is perhaps what previous generations have failed to do," she added.
"We are true believers that this project will empower the students to enhance their environment through the quality of education and their skilled teachers who are guiding them forward. Also, we want this project to encourage all schools and all students to follow on the same path," she said.
"For Syrian children and refugees it's a way to contribute to Lebanon that helped them to insure their protection on its land. However, implementing social responsibility to the Lebanese children for a better future," she emphasized.
"There is no limit to what we can accomplish when we work together. We are able to turn the challenge into an opportunity in an artistic and creative way that is an added value to our society," she concluded.
Fadi Yarak
"In the past two years, Lebanon's garbage crisis has sparked an outrage among the citizens when it filled the streets," Yarak recalled. "Today we are aware of the importance of recycling for waste management through artistic methods."
"We look up to this project, which we will take into another level including all Lebanese areas such as (Bekaa, Akkar, Mount Lebanon, and the South). Also, the mural paintings that have been done shall be displayed at the Ministry and we will invite all the students to come and see their own work," he concluded.
During the ceremony, the students performed with the musical instruments they created from waste and 7 "trash orchestras" represented the participating schools. The ceremony also included a display of the large-scale murals made from waste material collected by the students to artistically transform the playground of their school.
Prizes were distributed to the winning schools and they are as the following:
Furn Al-Shebbak Third School: Best Mural Award (First Prize - Yola Dou)
Salma El Sayegh School (Best Color Tuning - Yasmin Gharious)
Al Ghobairi Second School (Best Composition by Fatima Salama)
Sobhi Al Saleh School (Best Recruiting Technician - Najwa Tohme)
Uruguay's First Mixed Official School (Concept Idea - Rachel Chidiac)
Omar Fakhoury School (Innovation Award - Amna Al Ghafir)
Al Amrousiya School (Best Waste Orchestra Award - Deeb Al-Itani).
Three students were selected for the Ghassan Yammine's Music Institute Prize:
Wadee El Tanir - (Uruguay School)
Lara Abu Faleh - (Uruguay School)
Tala Helmouchi - (Omar Fakhoury School)
The jury was composed of Joumana Merhi, from the Ministry of Education, Renata Raad Margane from UNHCR, the composers and musicians Ghassan Yammine and Ziyad Sahhab, the artist Carla Barchini, and Nadine Abou Zaki from Red Oak.
The ceremony ended with an interactive drum performance by Walkabout Drum Circle conducted by Jad Balaben.